My Story
My name is Javier Baena Ávila and I am a Junior Digital Compositor, currently living in Barcelona.
I have a degree in Audiovisual Communication at the University of Barcelona an I have cursed The VFX School at Escola Superior de Cinema i Audiovisuals de Catalunya.
I have pasion for cinema and visuals effects, but I am also keen on animation and motion graphics.
In my free time, I love to practice sport. Nowadays, I compete in 400 metres hurdles for Cornellà Atlètic at Spanish Honor Division and I am part of the Board of Directors.
If you wish, you can contact me by email (baenavisuals@gmail.com) or LinkedIn.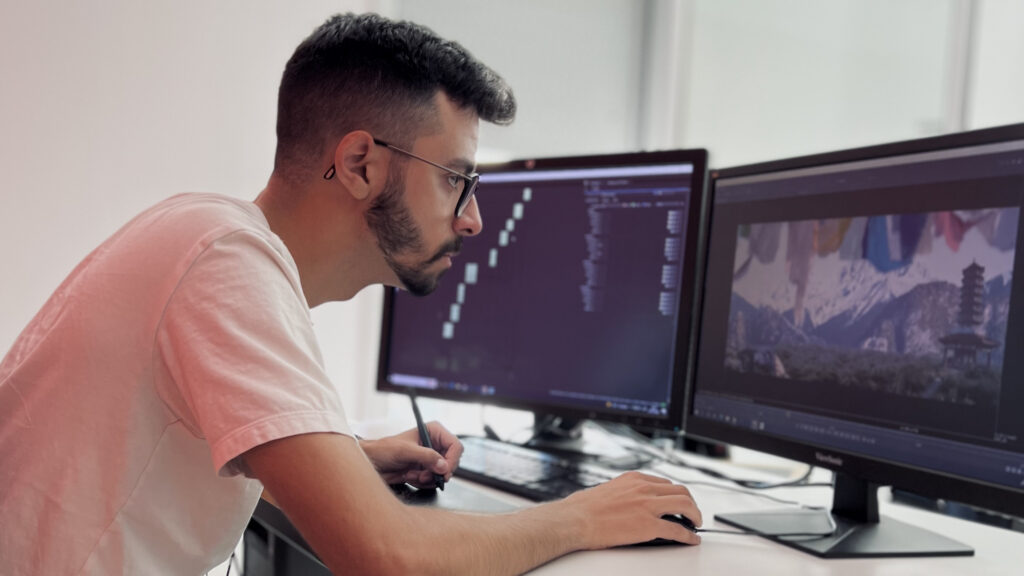 Work Experience
Digital Compositor and Matte Painting
LAMPPOST VFX | Feb. 2023 – Present Day
Work as Nuke Digital Compositor.
DEAD HAMSTER VFX | Sept. 2022 – Feb. 2023
Work as Nuke Digital Compositor.
ESCAC STUDIO | Mar. 2022 – Jul. 2022
Work as Nuke Digital Compositor and Digital Matte Painter for ESCAC projects.
Audiovisual Video Editor and Postproducer
ATMAN AUDIOVISUAL | Sept. 2019 – Mar. 2020, Nov. 2020 – Oct. 2021
Execution of full postproduction workflow including video and audio editing, grading, motion graphics procedures and finishing.
Community Manager
CORNELLÀ ATLÈTIC | Jan. 2017 – Dec. 2017
Coordination of social networks and renovation of the webpage with a new graphics and interaction design.
Freelance Digital Creator
Apr. 2020 – Present day
Shooting and postproduction of "L'esport contra la LGTBIfobia" for Ajuntament de Cornellà de Llobregat and Cornellà Atlètic.
Design of competition kit for Cornellà Atlètic.
Creation of motion graphics video for the app "Diabetes Control and Automation".
Education
The VFX School
Escola Superior de Cinema i Audiovisuals de Catalunya | Oct. 2021 – Jul. 2022
Audiovisual Communication
Universitat de Barcelona | Sept. 2017 – Jun. 2021
Science High School
Institut Francesc Macià | Sept. 2014 – Jun. 2016